The Bari Koral Family Rock Band is a highly acclaimed children's music ensemble. Their style is a unique blend of pop and rock, infused with kid-friendly narratives and sing-along tunes that appeal to both children and adults.
Their music is characterized by its ability to get children dancing, moving, and experiencing music through interactive participation. The band's songs often feature playful subject matters, catchy melodies, and upbeat rhythms, creating an engaging and entertaining sound meant to inspire a love of music in children.
Their performances are not just concerts but fun-filled events with interactive shows aimed at igniting children's imagination. They've carved out a significant space in the children's music genre, becoming one of the most relevant bands in kids music today.
Top Songs:

Search songs by Bari Koral Family Rock Band
Singles:
Songs: 1
Duration: 4 min.
Released: Jun 08, 2010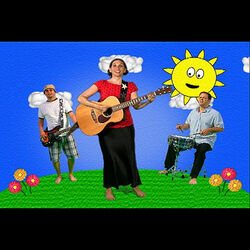 Songs: 1
Duration: 4 min.
Released: Jun 08, 2010