Allison DeSalvo is a children's performer and artist educator who has been described as "pure magic" in engaging and inspiring children's imaginations. Young and old are captivated by her beautiful voice, energy, humor and dramatic flair, singing and dancing along with laughter and fun. Bringing 30+ years of experience, her lively concerts, classes and community events invite audiences to embark on a journey combining traditional and original music drawn from many cultures and genres, that is entertaining and educational. Kids leap up to participate by acting out songs, playing instruments, making believe with puppets and making art. Her World of Song interweaves many art forms to reach all children's learning styles. Touching hearts and minds Allison's WOS embodies the awareness that music inspires and unifies us all when presented in a loving atmosphere of learning and joy.
Years Active: 1993 -
History
Long before performing for families, Allison DeSalvo, could be heard singing up in a tree as a child. Later as a professional actress, and classically trained singer she won critical acclaim appearing in music-theatre-opera productions off-Broadway and in Europe, including La Scala Opera in Milan, Italy. Along the way, Allison fell into, and in love with performing and teaching kids. She founded World of Song (WOS) to provide outstanding family music concerts and creative arts classes to young children and began writing her own songs and stories, and since has released two albums. Allison is a popular teaching artist and the creator of the "Music, Art & Me" and "YogAmi~Kids Yoga" programs that combine music, movement, mindfulness, art, and storytelling to nurture the full spectrum of children's creativity and need for self-expression. Her work and music have inspired children and families locally and as far away as China. She's taught pre-school and kindergarten and is a co-founder of The Creative Living Room in Swarthmore, PA. Allison's heartfelt, uplifting music, performances, and teaching supports children growing with love and interconnecting the arts with the joyful celebration of life.


Search songs by Allison DeSalvo
Albums:
Singles:
Songs: 1
Duration: 3 min.
Released: Jun 09, 2021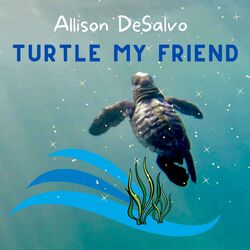 Songs: 1
Duration: 3 min.
Released: Jun 09, 2021